Obligatory legal mentions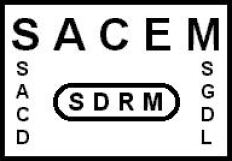 The required statements that need to be on the phonograms are specified in paragraph 5 " general provisions " appearing on the back of the SDRM authorization request form.
Apart from the producers own legal mentions, the following information may appear on the record:
The SDRM logo "facsimile", if all or part of the works registered works belongs to its repertoire
The complete titles of all the works reproduced.
The name of the composer, author, adapter of the text, arranger of the music (if the adaptation and/or arrangement is authorized).
The indication: "Tout droit du producteur phonographique et du propriétaire de l'oeuvre enregistrée réservés. Sauf autorisation, la duplication, la location, le prêt, l'utilisation de ce disque (cette cassette) pour exécution publique et radiodiffusion sont interdits".
The indication: "Interdit à la vente", if the phonogram  is distributed free of charge.
The reference or catalogue number : numerical or alphanumeric identification number you assign to the phonogram and which must appear on the sleeve or the record. It must be the same as the one the authorisation application for SDRM.
This information represents the licence regime of a "work by work" production. SDRM offers different contracts, depending on the situation.